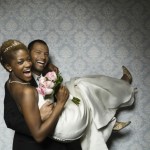 God loves you so much that He promises to never leave
you nor forsake you.
The awesome thing about God's Word, is that it stands –
heaven and earth shall pass away, but His Words shall
never pass away. (Matthew 24:35)
Because of His love for you, you have confidence
knowing that He has your best interest
at heart and that He will never lead you astray.
Which is why it's so important that you
stay connected to the vine in daily prayer.
He is the vine, we are the branches. (John 15:5)
The answer to every question in life, including
answers pertaining to your own personal
life which may not be etched out in the Bible, can
be made known to you through His Spirit as you
constantly stay in regular communion and
constant fellowship with Him.
God's Spirit can also lead you when it comes to who
you should decide to date and marry.
Before you start dating or start a relationship with
someone, consult the Father first.
Pray, then sit still in your quiet time with the Lord
and see what He has to say about the person.
As you date someone, all during the dating process,
continue to seek God about the person – daily.
Leave your heart open to God – open to God's
correction and instruction.
Don't ignore any warning signs or red flags about
the other person brought to you by the Holy
Ghost, and as I say in a section of my book,
How To Date And Stay Saved, follow peace at all
times.
If at any time peace about the person starts to flee,
don't ignore it. No matter how wrapped up in the
other person you may feel at the moment, God loves
you so much that He'll warn you and reveal the truth.
Don't grieve the Holy Spirit by turning your cheek on
His divine guidance and admonishment – it's
only to help and protect you in the long run.
However, if you continue to have peace while dating
the person, and you find that he lines up with what
you're believing God for and more (Ephesians 3:20),
then continue moving forward in faith, believing,
and enjoying the journey.
God loves you too much to not give you the desires of
your heart, as you consistently seek His face and
delight in Him. (Psalm 37:4)
*****
If you liked this and would like to sign up to
receive your own devotional for single women
emailed to you personally from Kim
each morning, Click Here
Kim Brooks, author of bestselling novels, She That Findeth, He\'s Fine...But is He Saved? and more. www.kimontheweb.com