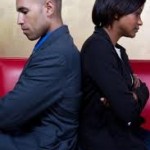 You may have heard the saying before, that you want to make sure that someone or something is "of God." What that basically means is making sure whether or not something has been ordered and sanctioned by God, Himself, and not part of your own doing.
The following are 3 ways to tell if your relationship is NOT of God.

1. You put your date's needs above God's needs. People have needs and wants, but a true man or woman of God's needs should line up with God's Word and God's expectations. Either the person you're with reminds you of God's love and keeps you focused on pleasing Him, or they're causing you to take your focus off of God and make it more about pleasing them. Also, you want to make sure that you don't begin to love someone more than you love God by placing them on a pedestal more so than God – you want to make sure that your love for God remains top priority and seated at the throne of your heart.
2. Your relationship causes you to compromise your relationship with God. Relationships either cause us to draw closer to God or farther away from God. There is no in between. If you find yourself spending less time in prayer and more time repenting for past physical actions with a significant other, then know that that other person is causing you to compromise your relationship from God in order to satisfy their own fleshly desires and that that person may not necessarily be, like the song says, 'sent from heaven.'
3. Instead of adding to your life, your relationship sucks the life out of you!
Healthy relationships are where the two people involved laugh together, play together, pray together, and do life together. They encourage one another and follow peace in the relationship – the peace that passes all understanding. If the majority of the time in your relationship you're either fixing things or trying to fix and change the other person, then the person you're dating may not be the one for you and it may be time to move on. Only God can change a person; we must believe a person shows us their true selves the first time and not try and make excuses because we want to force something to work that probably wasn't meant to work in the first place.


Trust in the LORD with all thine heart; and lean not unto thine own understanding. In all thy ways acknowledge him, and he shall direct thy paths.
Proverbs 3:5-6
Kim Brooks, author of bestselling novels, She That Findeth, He\'s Fine...But is He Saved? and more. www.kimontheweb.com