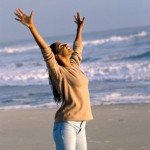 Jesus loves you more than anything, and wants to be your every thing.
Sometimes, even as Christians we give God part of our lives, and not all of it.
For instance, if we're in a jam, need a financial breakthrough or a healing miracle, we're crying out to God and calling on Him more than we've ever done.
Yet when it comes to our relationships with the opposite sex, you can hardly hear a pin drop in heaven as God patiently waits for His child to come to Him in that area as well.
If you're in a relationship, get into the habit of praying through the relationship, even during normal devotional prayer time, so as to make sure you're following the peace of God and not your flesh, and not "so-called love" which is actually lust in disguise.
Ask God what He thinks about the person, and how (or whether or not) you should proceed in the relationship. Sometimes God will reveal to you an encouraging word to give to the person you're dating that will lift him up and set him on the right path (remember, we're called to be friends, first, so just like you would share an encouraging Word God gives you to your girlfriend, you should also share any encouraging Words God gives to you for the person you're dating).
Also, while praying to God, don't ignore any red flags of caution, and, above anything else, stay in constant communication with the Father and He'll reveal all things in due time. (Luke 12:2)
If you're not in a relationship (yet 😉 it's okay to still pray for your husband now, even before he shows up. It's an act of your faith, as faith is the substance of things hoped for and the evidence of things not seen, so though you may not have met him yet, or though he may not have presented himself to you yet, you can still pray for him. I pray for my husband now, that God would strengthen and encourage him and that he would grow in his relationship with God.
Now faith is the substance of things hoped for, the evidence of things not seen.
Hebrews 11:1
The whole point is, if you haven't done so already, this year be sure and include God in every aspect of your life, and not just part of it.
Make Him your ultimate prayer partner, and pray to Him about everything.
Kim Brooks, author of bestselling novels, She That Findeth, He\'s Fine...But is He Saved? and more. www.kimontheweb.com