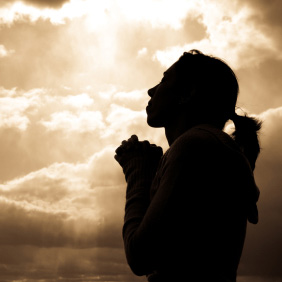 As single believers, we need to be prayed up so we don't fall into temptation or a snare.
Honestly, when I think back on the times when my flesh was the weakest, and when my mind was telling me "no" but my body was telling me "yes," were times when I wasn't prayed up.
The battle is not with the devil (he's already defeated) the battle is with the flesh and the spirit.
As I explain in the first chapter of my new book, , I talk about how our flesh is fed every single day – whether intentionally or unintentionally.
Our flesh is fed just by turning on the TV, listening to the radio (some of those songs are so raunchy now-a-days), or even stepping outside and seeing billboards with sensual advertisements, folks walking down the street half naked with their 'pants on the ground,' or encountering every day co-workers who refuse to adhere to dress codes. So your flesh is fed regardless. Just like your flesh is automatically fed everyday, it's more important that you die to the flesh and feed your spirit man.
We feed our natural body 2,3, or even 4 times a day, so how much more should we feed our spirit, which is who we really are (for we are spirit beings who have a soul and live in a physical body). For this reason, we must feed our spirit man.
We feed our spirit man when we read God's Word daily (which is the keeping power) and pray every single day. No, not just shotgun prayers but really communicate with God where you speak to Him, then you wait and listen for Him to speak back to you.
The way you know it's God speaking to you is when what you hear in your spirit lines up with the Word of God. Which means the more Word you have in you, the more He can speak back His Word to you and confirm it.
Also, you don't just want to pray, you want to REALLY pray – the Word says the effectual, fervent prayer of a righteous man availeth much, so if you want your prayers to avail, which means to be able, be good, be of strength and might then you want to pray effectually, and fervently in the Spirit – pray out the perfect will of God for your life and pray out those divine secrets and mysteries.
The more you stay prayed up, the more the enemy has to flee and the more your days will be led by you walking by the spirit, instead of being dominated and controlled by the flesh.
Scripture Reference:
1 Corinthians 15:31
Jude 24
James 5:16
1 Corinthians 14:15
1 Corinthians 14:2
Kim Brooks, author of bestselling novels, She That Findeth, He\'s Fine...But is He Saved? and more. www.kimontheweb.com