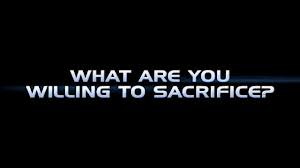 The Bible explains how brothers Cain and Abel presented their offerings unto God, however as you know Abel's offering was accepted with gladness while Cain's offering was frowned upon.
I believe the reason this was so is because Abel offered God his best – the first fruits of his labor and his best sacrificial lamb, whereas Cain offered God his leftover grain and fruit. Though both were offerings from their labor, nonetheless, only one was acceptable to God. (Genesis 4, Hebrews 11:4)
God knew both men's hearts with regard to why they gave what they gave. Cain probably thought he could get away with giving God his scraps, and Cain may have been motivated by greed and selfishness in that he wanted to keep the best to himself thinking that God would be okay with that.
In the same manner, I believe this example mirrors the way some of us, as believers, offer ourselves, more specifically our bodies, unto God.
Our bodies belong to God as we were bought with a price – the shed blood of Jesus. (1 Corinthians 6:18-20)
We can either give God our best by remaining pure before Him which gives us the ability to lift up holy hands without wrath or doubting and offer ourselves as the church without spot or wrinkle (1 Timothy 2:8, Ephesians 5:27). Or we can offer ourselves all used up, tainted, defiled, sexually impure with our hands lifted up saying, "Here God. Take this part of me. It may not be my best but it's something. Receive me Lord."
I believe if we did the latter we just may get the same response Cain did, while actually believing we're actually doing something great for God.
The Word tells us in Romans 12:1 beseech you therefore, brethren, by the mercies of God, that ye present your bodies aliving sacrifice, holy, acceptable unto God, which is your reasonable service.
As we present our bodies unto God as an offering, a living sacrifice – the Word lets us know that a holy offering is acceptable to God and accepted by God, and also that doing so is our reasonable service, or the least we can do as believers.
The good news is even if we have a scarred and tainted past once we repent and sincerely change our ways and commit to living, from here on out, sexually pure before Him – then we can then present our bodies unto God, and our offering would then be holy and acceptable to Him.
So as we continue into this New Year, in the midst of all these 'resolutions', resolve to give God your best this year, and to give Him all of you, not just part of you, as a living sacrifice.
Kim Brooks, author of bestselling novels, She That Findeth, He\'s Fine...But is He Saved? and more. www.kimontheweb.com