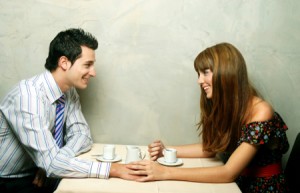 In the first chapter of my book, How To Date and
Stay Saved, I talk about the one relationship that
should be the foundation of every relationship
thereafter – your relationship with God.
Before you start seriously dating someone, make
sure your relationship with God is so in tact that
the main man you never want to hurt in the
process is your Heavenly Father.
Some people get in relationships and make
their man their god.
They put his desires over God's desires and find
themselves in compromising positions or at the
altar repenting every Sunday.
Though God often tries to direct and warn us, we
ignore Him and listen to and adhere to him
instead of Him.
A person who will place a man above God is not
ready to date.
I know, I know, there are many who date,
marry and keep their man's desires at the head
instead of God's, however the fruit of that is
often a marriage where God is not the true
head of the home.
God being the head of your life before you date
helps ensure that He will remain the head of
your life while you date which should guide
your decisions and behavior during the dating
process as you stay connected to the true vine
and pray through the relationship.
I am the true vine, and my Father is the husbandman.
Every branch in me that beareth not fruit he
taketh away: and every branch that beareth fruit,
he purgeth it, that it may bring forth more fruit.
Now ye are clean through the word which I have
spoken unto you.
Abide in me, and I in you. As the branch cannot
bear fruit of itself, except it abide in the vine; no
more can ye, except ye abide in me.
I am the vine, ye are the branches: He that abideth in
me, and I in him, the same bringeth forth much fruit:
for without me ye can do nothing. John 15:1-5
Kim Brooks, author of bestselling novels, She That Findeth, He\'s Fine...But is He Saved? and more. www.kimontheweb.com