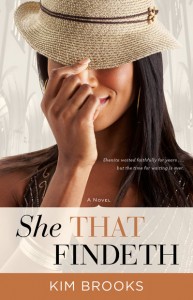 FOR IMMEDIATE RELEASE
DETROIT, MI (April 4, 2014) – An all new Christian fiction novel from author, Kim Brooks, titled She That Findeth, will be published this spring by Atria Books, a division of Simon and Schuster. This novel releases nationwide on Tuesday, May 20th, 2014, in bookstores, major retail chains and online booksellers.
She That Findeth centers around what happens when a mid-30s woman, Shenita Love, grows tired of waiting on God to send her a husband and sets out to find one on her own.
Kim Brooks, a nationally recognized award-winning author, has been speaking to single audiences since 2005 and publishes The Single Heart Online Daily Devotional which has encouraged thousands across the globe since 2010.
Speaking of her collaboration with her editor, Todd Hunter, Brooks states, "Todd is an excellent editor who is very easy to work with. I appreciate how he has allowed me to maintain the integrity of the novel by keeping certain spiritual elements, along with realistic struggles and situations so readers can relate."
Hunter looks forward to adding She That Findeth to his growing fiction list.
According to Hunter, "It's rare you find a writer so genuine, talented, who speaks to their audience as well as Kim Brooks." He adds, "She uses well the power of story to entertain and inspire. She That Findeth is an awesome display of these things and a fitting contribution to the Christian fiction genre."
Colleagues have dubbed Brooks, "Christian fiction's rising star," and Tyora Moody, author of the Victory Gospel Series proclaims, "Kim Brooks' character development will draw you into She That Findeth and leave you breathlessly anticipating if Shenita will truly find the love she's so desperately seeking."
Says a fan of Kim Brooks, "Kim is one of the best authors from Detroit. She is awesome…her free flowing language always inspires me to read her books. I have already read quite a few writings of hers and have loved them to the core. The news about this new book has excited me. This is surely going to be a wonderful work as well. I am eagerly waiting for the book to hit the bookstores, so that I can get my copy."
This is Brooks' third novel and fifth book.
Media Contact
for interviews and review copies
Bobbilyn Jones, Senior Publicist
Atria Books | a division of Simon & Schuster
Phone: 212-698-1107
Email: [email protected]
For booking and notifications concerning this release and upcoming events surrounding it and/or to sign up to receive Kim's free eNewsletter and daily devotionals for singles visit https://kimontheweb.com
Media Contact
for interviews and review copies
Bobbilyn Jones, Senior Publicist
Atria Books | a division of Simon & Schuster
Email: [email protected]
Phone: 212-698-1107
###
Kim Brooks, author of bestselling novels, She That Findeth, He\'s Fine...But is He Saved? and more. www.kimontheweb.com