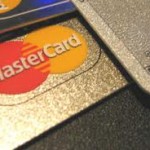 Today marks the last day of Black Friday Weekend Madness.
Starting the Friday after Thanksgiving including today, folks from all walks of life, some of whom even camped out in front of stores Thursday night, eagerly anticipated the opportunity to catch a deal at their favorite store so they can feel like they got the best bargain in town. I'm sure a lot of them, in order to make their purchases, pulled out their credit cards and told the store clerk, "Charge it!"
Credit cards are so convenient, and credit card companies make them easily accessible and easy to use. It's not hard to fall into the trap of using them excessively or even get out of control.
I believe sometimes we, as single believers, use God's grace like a credit card. You know, instead of buy now, pay later it's sin now, repent later.
Just like the shopper who knows beforehand what she plans to buy and what card she plans to use to pay for it, sin for some becomes a premeditated occurrence, with folks ready to pull out their "Repent" card even before the purchase of sin is made.
For instance, you KNOW if you call your ex he's going to ask you to come over and if you do you'll end up having sex. Some even plan to have sex beforehand and say, "Lord, you know my heart, please forgive me for what's about to go down later on tonight."
Thank God we do serve a God who is full of grace, mercy, and compassion, but we also serve a God who's smarter than the average bear and is fully aware of where your heart is when it comes to serving Him and doing what He says in regards to abstaining from sex until marriage.God will honor you once you make a premeditated, on purpose heart decision to serve and please Him and, from this day forward, not have sex again 'til marriage.
He will give you the wisdom and strength so that you will not place yourself in environments with the opposite sex where the opportunity for something to "just happen" becomes just too easy.
God is looking for a people who is ready to love Him like He wants to be loves and serve Him like He wants to be served so that He can get the glory from our lives and so we can be glorified as billboards for Christ through Him.
What shall we say then? Shall we continue in sin, that grace may abound?
God forbid. How shall we, that are dead to sin, live any longer therein? Romans 6:1-2
My little children, these things write I unto you, that ye sin not. And if any man sin, we have an advocate with the Father, Jesus Christ the righteous: And he is the propitiation for our sins: and not for ours only, but also for the sins of the whole world. And hereby we do know that we know him, if we keep his commandments. 1 John 2:1-3
Thy word have I hid in mine heart, that I might not sin against thee. Psalm 119:11
Kim Brooks, author of bestselling novels, She That Findeth, He\'s Fine...But is He Saved? and more. www.kimontheweb.com