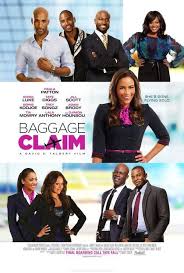 So last night I went to see the movie Baggage Claim which is about a single lady just shy of 30 who attempts to find love in the friendly skies within 30 days so she can beat her younger sister to the altar.
I knew who the main protagonist's character, Montana Moore, would end up shortly after the movie began. I laughed at some spots – the funniest was Tia Mowry's character as the crazy ex. The movie contained a lot of the elements of your classic romantic comedy – the gay male friend who wants more than anything for his best gal pal to be happy and find love; the loose, sex-crazed girlfriend filled with bad, misleading advice, and the voice of reason who, in this case, was William Wright and ultimately Montana herself.
In spite of the somewhat predictable outcome (that did have a twist in the middle which I appreciated) I greatly enjoyed the movie's theme: The magic is not in getting married; it's in staying married.
It's better to marry for love in God's timing instead of for superficial reasons such as because one's biological clock is ticking or because of a desire to please others including pressuring parents, or because of a desire to beat someone in a race, such as the race to the altar.
It's better to wait on the man of God whom God has for you and to have faith and trust in the Lord while waiting; in doing so you may discover your "Mr. Right" may have been there all along.
More Baggage Claim Movie Reviews:
New York Daily News
USA Today
US Magazine
Free Daily Devotional For Single Women: https://kimontheweb.com/the-single-heart-online-daily-devotional
Kim Brooks, author of bestselling novels, She That Findeth, He\'s Fine...But is He Saved? and more. www.kimontheweb.com