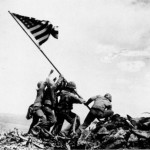 Today we commemorate those who served in the armed forces to help protect us and our land.
We honor them for what they did and all they sacrificed including time with family, friends and loved ones and ultimately their lives.
The same way they were called to serve, as believers you are called to serve as well.
Each day as you get dressed, pray and get ready for battle, you put on the whole armor of God.
You put on the breastplate of righteousness as you kill the flesh daily so you can remain in
right standing with Him (1 Corinthians 15:31; 2 Corinthians 5:21).
You put on the shield of faith which causes you to believe God in spite of what it looks like and in spite of how you feel.
You walk out the door wearing your helmet of salvation, which is your covering, knowing that the blood of Jesus saves you, covers you and keeps you throughout the day.
As a soldier in the army of the living God, you consistently report to your Commander in Chief, El-Elyon, aka The Most High God, for your instructions and once He gives your marching orders you move without hesitation.
No matter the test or trial and no matter the circumstance…no matter whether or not your mind can conceive a thing… you lean not on your own understanding; instead you walk by faith and not by sight. (Proverbs 3:5; 2 Corinthians 5:7)
You endure hardness as a good soldier every day reporting for duty while knowing that the battle is not yours but the Lord's and that in the end, you win! (2 Timothy 2:23; 2 Chronicles 20:15)
Now thanks be unto God, which always causeth us to triumph in Christ, and maketh manifest the savour of his knowledge by us in every place. 2 Corinthians 2:14
Put on the whole armour of God, that ye may be able to stand against the wiles of the devil. For we wrestle not against flesh and blood, but against principalities, against powers, against the rulers of the darkness of this world, against spiritual wickedness in high places. Wherefore take unto you the whole armour of God, that ye may be able to withstand in the evil day, and having done all, to stand.
Stand therefore, having your loins girt about with truth, and having on the breastplate of righteousness; And your feet shod with the preparation of the gospel of peace;
Above all, taking the shield of faith, wherewith ye shall be able to quench all the fiery darts of the wicked.
And take the helmet of salvation, and the sword of the Spirit, which is the word of God: Praying always with all prayer and supplication in the Spirit, and watching thereunto with all perseverance and supplication for all saints; Ephesians 6:11-18
Kim Brooks, author of bestselling novels, She That Findeth, He\'s Fine...But is He Saved? and more. www.kimontheweb.com