Being celibate is the new black.
Whether its actress, Kendra Johnson who plays Linda, from Tyler Perry's sitcom, Love Thy
Neighbor, informing her online date that she's celibate, or actress, Meagan Good, sharing
how she and her husband, Hollywood executive, DeVon Franklin, were abstinent with
each other until marriage – more women are choosing to hold on to the cookie, but for
more than 90 days – they're holding on to it until he puts a ring on it and the two say, "I do."
But in the meantime, with media claiming it to be so "hard" for a single black woman to settle
down with a good man, what's a single girl with standards to do?
Is it realistic to date someone several weekends in a row while the maintaining no expectation
of physical dessert after dinner?
Not only is it realistic, it's also best in order to maintain one's dignity, spiritual grounding and peace.
Choosing to be abstinent until marriage is not a death sentence, it's actually a proclamation of
freedom – freedom from settling for less than God's best and freedom from all the emotional
complications and drama that accompanies sex before marriage.
The key to maintaining your standards while dating is to make sure you date someone who holds
similar standards as you.
Let your date know, up front, that you're abstinent until marriage.
If he tests you along the way, maintain your stance and back away if you have to – he'll respect
you even more for it.
Men respect women with standards.
If a man has to work in order to win your love, which includes his working to keep his hands
off you, then if he's really into you he'll respect your desire and will do whatever it takes in
order to keep you.
A man who is out to get some and that's it, with no plans of a future with you, will try you
and once he sees he can't get any – he's on to the next one.
So don't get offended if, during your quest to remain set apart, that many fall off along the way.
They weren't yours to begin with because the one God has for you, is for you and he'll not only
respect your decision to wait he'll also value you the more for it and would also want to wait, too.
Can two walk together, except they be agreed? Amos 3:3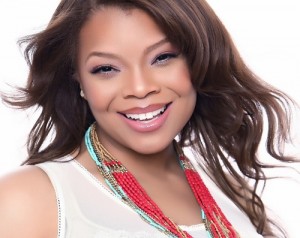 Actress, Kendra Johnson of "Love Thy Neighbor"
Kim Brooks, author of bestselling novels, She That Findeth, He\'s Fine...But is He Saved? and more. www.kimontheweb.com