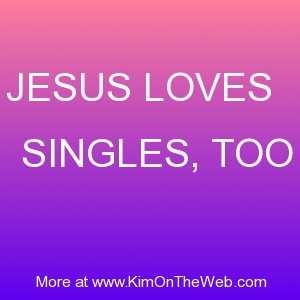 As an author and minister on singles issues for the past 8 years, quite often I receive emails mainly from women expressing their sadness in regard to their present status as a single.
Many express feelings of loneliness, especially those over 40 who never married nor had kids and would like to – and it is my prayer that something God leads me to write, whether a blog or book, online radio show episode or video will minister to their souls and that it will carry them long enough to be encouraged on their journey as a single believer.
The enemy and father of lies, satan, whose main goal is to steal, kill and destroy (John 10:10) often uses the mind as a gateway to sow negative thoughts to singles every where including those which may insinuate that God loves those who are happily married with children more than he loves singles – or that married individuals are more blessed than single people.
As a single Christian, you may feel left out or forgotten about because you have yet to see the manifestation of your 'Boaz' or 'Good Thing' though it's been several years and you have yet to even meet a prospect that even comes close to what you're believing God for in a godly individual.
I mean, if you're reading this I believe it's safe to assume you would like to spend the rest of your life with someone who loves God and also loves you – someone who respects, admires and supports you and I'm sure you would love to be with someone who truly fears God, operates in integrity, has a pleasant demeanor and whatever else you may add to your own personal list – not excluding the main things.
What Christian wouldn't want someone who truly feared God and loves them, too?
The challenge quite often is either meeting or being presented with someone who fits at least those main requirements so you can at least agree to date to explore what other quality characteristics that person may possess.
So I said all this to say – be encouraged and don't lose heart.
Though it may seem like friends all around you have gotten married or are already married and working on their third child and you may be single and never married with no kids or single with no kids desiring marriage or divorced desiring another chance – know that regardless of your current circumstance no matter what God still has a preordained plan and destiny for you.
Your calling is unique and special because you are unique and special.
To every thing there is a season and everyone's season is not the same. When God created the world He created it with you in mind – even before you began to grow in your mother's womb. (1 Peter 2:9, Ecclesiastes 3:1, Jeremiah 1:5)
So, No, He hasn't forgotten you.
And, Yes, Jesus does love you.
And, Yes, God does have a plan for your life that He desires you to seek Him about and do what He has called you to do. (Jeremiah 29:13)
So instead of seeking a significant other to fulfill you, seek fulfillment in Him – find out what He wants you to do to serve mankind and enhance His kingdom and be content right now where you are as a single believer. (1 Corinthians 7:32)
The Apostle Paul said, I have learned, in whatsoever state I am, therewith to be content (Philipppians 4:11)
True contentment, or satisfaction starts from within.
Love yourself enough and be pleased with yourself enough that you choose to take this time right now as a single to cultivate your relationship with God, do His will for He has a work for you to do right now and work on becoming a better you physically (health wise), mentality (increasing your knowledge base), socially (socializing and walking in love and forgiveness with those whom you currently do life with including family and friends), financially (getting your financial house in order, getting out of debt and saving for your future) and spiritually (developing daily habits of reading the Word and praying more than just when you want something – also pray for someone else and for other marriages to be restored and healed which sows seeds into your familial future).
Be grateful for what you have and all God has brought you through. (1 Thessalonians 5:18)
Be thankful that God will never leave you nor forsake you for with Him you are never alone. (Hebrews 13:5)
Know that with every decision you've made in your life – whether you think it's good or bad, God will use that to work together for your good as long as you seek the learning opportunity in every situation (so you'll know how to handle it next time) and continue pressing forward in the plan God has for your life. (Romans 8:28 Philippians 3:14)
Don't get distracted and stay focused knowing Jesus loves you unconditionally and that He's not withholding anything from you – He's simply preserving you, protecting and propelling you to the next level in His ultimate plan for your life – so hold on tight and enjoy the ride – God's not through with you, yet!
For the LORD God is a sun and shield: the LORD will give grace and glory: no good thing will he withhold from them that walk uprightly. Psalm 84:11
Blessed by this? Share the banner and sign up to receive Kim Brooks' daily devotional for single women at https://kimontheweb.com/the-single-heart-online-daily-devotional/ for a daily dose of encouragement.
Kim Brooks, author of bestselling novels, She That Findeth, He\'s Fine...But is He Saved? and more. www.kimontheweb.com