As we celebrate Holy Week this week, I am excited to announce live, in-person ministry services to be held once a month:
All The Way Live Ministry with Kim Brooks!
On the first Tuesday of every month starting in April (Tues. April 2nd), I will be sharing a Word from on High – a high energy, down-to-earth teaching of God's Word tailored for singles coupled with the manifestation of God's love and power as we join together on one accord in His presence.
The first, to be held next Tuesday, April 2nd, is a special kick-off service that will feature not only ministry of the Word but guest psalmist, AnnaMaria (as seen on Dr. Bobby Jones – http://www.annamaria.me ) and light refreshments.
Services will be held in Detroit, MI at Roberts Riverwalk Hotel (inside Superior room) located on 1000 River Place Dr Detroit, MI 48207 (Beautiful hotel off the Riverwalk overlooking the Detroit River and Canada http://www.detroit)
So after you get your shout on as you celebrate the fact that Jesus died on the cross and on that 3rd day He Got UP! – Come on out and continue the celebration and discover how to apply the Word of God to your every day life so you can continue to live victoriously and fully walk out God's perfect will and plan for your life.
Again it's Tuesday, April 2nd (7pm – 9pm) at the Roberts Riverwalk Hotel. Yup, it's free and there's also free parking (valet parking is optional)
Watch quick, under 3 minute video invitation for details:
And here's the official flyer – I look forward to seeing you next Tuesday, April 2nd!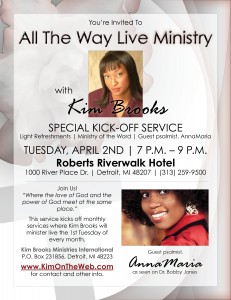 *Brought to you by Kim Brooks Ministries International
*Though message will be tailored for singles, all are welcome to attend.
Kim Brooks, author of bestselling novels, She That Findeth, He\'s Fine...But is He Saved? and more. www.kimontheweb.com