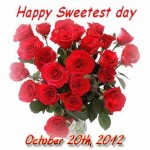 On the east coast (and even beyond from what I've heard) today folks are celebrating the romantic holiday – Sweetest Day. Like most romantic holidays, some singles may feel left out of the loop if they don't have a boo to receive a box of chocolates from.
Well for today's daily devotional – I'd like to share 4 ways singles can still celebrate Sweetest Day.
1. Be Sweet To Those Who Have Been Sweet To You.
Use this day as a way to say, "Thank you" to special people in your life who have blessed you, poured into you, celebrated you and not just tolerated you whether it's your parents, mentors, or others you love and admire. Give them a nice card or something "Sweet" like a slice of chocolate cake to thank them for being sweet to you. Take it a step further and do something sweet not just someone who may not have been sweet to you, but you may have had disagreements with in the past and use this day as an opportunity to give them something sweet in order to say, "I'm sorry," even if you weren't in the wrong. (Romans 12:20; Romans 17:21)
2. Be Sweet to yourself.
Treat yourself to something sweet today whether in the form of a sweet treat, a mani pedi, or do some of your favorite things tonight whether it's going out with friends or even staying home turning on your favorite music soaking in a candle lit bath topped with rose petals. Celebrate self-love today because you deserve it! (Mark 12:31)
3. Be Sweet to God – the ultimate Sweetie.
If you haven't already, take a moment to say, "Thank you" to God – acknowledge Him for even the small things He does for you today even if it's leading you to a good sales rack, giving you favor to receive a close parking spot, or even receiving favor that someone else allowed you to cut into a lane on a road (I know here in Detroit that requires special favor lol) Tell God "I love you" and do something sweet for Him because He is the lover of your soul and He loves you with an ever lasting love. (Jeremiah 31:3)
4. Listen to the following podcast featuring 5 Relationship Experts, Mainly Male Panel of both Married and Unmarried Men as we discuss Sex, Dating and Relationships! Use this as YOUR opportunity to get into the minds of men and obtain free, godly relationship advice – ask those questions that have been on your heart for a while that you never received the answer to.
Where no counsel is, the people fall: but in the multitude of counsellors there is safety. Proverbs 11:14
Click the following link to hear it:
http://www.blogtalkradio.com/kimbrooks/2012/10/20/lets-talk-sex-dating-and-relationships-on-sweetest-day
Kim Brooks, author of bestselling novels, She That Findeth, He\'s Fine...But is He Saved? and more. www.kimontheweb.com