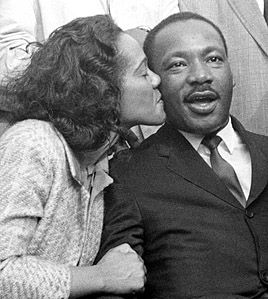 Did you know that Coretta Scott King initially didn't like Dr. Martin Luther King, Jr. because she thought he was too short?
She then went on to say that the more she went out with him and got to know him, the more she liked him. She discovered that his life's mission to fight for freedom and equality was similar to hers. Already an accomplished concert performer, having
graduated from Antioch, Coretta was asked by Dr. King if she could see herself married to a Southern minister. She figured that if she did, she would have to take on the role as a preacher's wife and he would want a wife to come home to, and not one
off traveling doing concerts in different countries. So she had a choice to make.
She chose Martin.
And boy did she make the right choice!
Not only was she able to accomplish her dream in assisting him with the fight for
equality, but a lot of times as they toured different countries, such as their trip
to India in 1959, she was invited to sing for many groups in cities, towns, and villages
throughout India. Hence both their dreams came true – together. (Vivian, Octavia.
Coretta, The Story of Coretta Scott King. Minneapolis, MN: Augsburg Fortress, 2006.)
Single people, it is so important that you find out where your potential mate is headed
in life. Find out their dreams; find out their purpose; and see where and if you would fit.
Ladies, talk about that man's life mission, and see if you can "see yourself" fitting
into that puzzle being his helpmate.
For example, if the two of you are at a restaurant and he tells you he's called to
live in Africa for 10 years on the mission field, and you can't see yourself willingly
going along with that man helping him (and not grumbling and complaining about the
living conditions or insects) then don't waste that man's time or yours. Don't determine
in your mind that you're going to marry him, then try and talk him out of it after
you're married.
That's not right.
We live for our dreams, and shattering one's dreams is like shattering a person's soul.
Instead of misleading someone for the sake of "having a good man," simply tell him you're
not called to Africa, and decide to be just friends or go your separate ways.
The man God has for you will come along in due season. Just be patient, know what you're
looking for, know what your dream is (i.e. know your own purpose and work on it now while
you're single), then when you meet the next one, talk about the direction your lives will
be headed. Talk about the present, talk about the past, and talk about the future.
Amos 3:3 says, Can two walk together, except they be agreed?
Marriage is a collision of two destinies and two dreams, working together to make them
come true, which leads to total fulfillment.
It's not enough that that person is "saved" and that's it. What's their mission?
What's their dream? What's their purpose? And can you see yourself walking with that
person on this journey called life together?
Just think if Coretta would have written Martin off because he was too short?
It would have been a huge mistake.
Try not to write someone off because of superficial attributes one can't change such as
their height or skin color. As believers, we're supposed to be more concerned with the
heart, right? But how many people actually take that into consideration when choosing a
mate?
Not saying that the person has to be totally unattractive to you. You want someone who
is pleasing to your sight, especially since this is the person you're going to wake up to
every morning. All I'm saying is, when considering someone, consider their integrity,
their character, and their purpose in life.
In doing so, you may meet and marry your dream man or woman, and you two can then make
each others' dreams come true together.