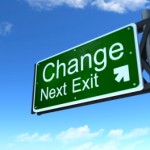 Most people don't like change.
Whether it's changing from having a job, to not having
a job, being married, to divorced and now single again,
suffering the loss of a loved one, or even breaking up
from a relationship when you just knew he or she was,
"The One."
Change is inevitable.
Some things in life we can't control.
We can't control other people.
We can't control everything that happens in life.
But what we can control is how we respond to the change.
As a believer, at all times no matter the change, you must
believe that all things work together for good for you
because you love God and are called according to His
purpose (Romans 8:28)
As long as you're operating in the will of God and doing what
you're supposed to do, or shall I say what you're called to do,
then there are no worries when it comes to the change.
Don't allow change to become an opportunity for the enemy
to wreak havoc on your mind by placing all kinds of negative
thoughts in it then you react out of fear and end up making
the same mistakes over and over again.
Instead, use change as an opportunity to draw closer to your
Heavenly Father, receive instructions from Him, or simply rest
in Him and His word while allowing God to work things out for
your good.
Either way, you're going to be okay, in spite of the change.
Like the song says, "Change gon' come," regardless, what's
important is how you respond to it and whether or not you
embrace it.
We are assured and know that [God being a partner in their
labor] all things work together and are [fitting into a plan]
for good to and for those who love God and are called
according to [His] design and purpose.
Romans 8:28 Amplified Bible
…we can be so sure that every detail in our lives of love
for God is worked into something good.
Romans 8:28b Message Bible
Kim Brooks, author of bestselling novels, She That Findeth, He\'s Fine...But is He Saved? and more. www.kimontheweb.com