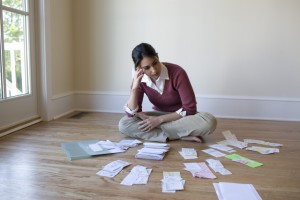 It's often been said that before you enter a serious
dating relationship, and definitely before you even
consider marriage that you must first be totally
out of debt.
It's better to be an asset than a liability in a
relationship, right?
Well, my friend and colleague, Black Enterprises contributor
and author, Dorethia Conner Kelly, begs to differ.
Dorethia feels it's okay to have some debt if married, and that while
married you and your partner can work together more effectively
to pay off your debt that much quicker.
However, she does agree that, ideally, it's best to be as
debt free as possible while single, and that now is the perfect
time to use this time to go ahead and tackle that debt to get
rid of it as much as you can – because once you're
out of debt you can work on your next goal; building wealth.
I'm excited because today marks the official launch of Dorethia's
first book, #MoneyChat The Book which is titled after her weekly
twitter cast on Mondays. For years, as the president of Conner
Financial Coaching, LLC Dorethia has offered tons of advice
and helped plenty people not only get out of debt but get off
to a great start toward a financially rewarding and secure future.
If one of your New Year's goals is to do better with your finances
(which it should be) then purchase or download your copy of this
new book and read it as the principles mentioned (plus she gives
tons of free websites to help you manage your money) can be
applied immediately after reading it.
Download or order it now, and enjoy
(your future hubby will thank you for it 😉
Here's the link to get it:
http://www.amazon.com/MoneyChat-BOOK-Successfully-Financial-Security-ebook/dp/B00TIVG1IW/ref=sr_1_1?ie=UTF8&qid=1424135415&sr=8-1&keywords=moneychat+the+book
In case you missed my 30 minute podcast interview with Mrs. Conner Kelly, you can listen to it here now:
http://www.blogtalkradio.com/kimbrooks/2015/02/11/money-chat-with-author-dorethia-conner-kelly
Kim Brooks, author of bestselling novels, She That Findeth, He\'s Fine...But is He Saved? and more. www.kimontheweb.com