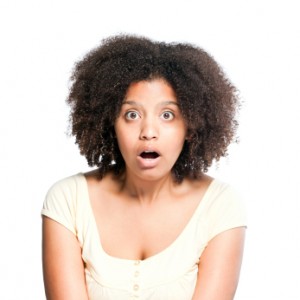 Yesterday I was honored to be a guest on Sharvette Mitchell's online radio show and a man asked the question which went along these lines (question paraphrased), "Sex doesn't mean much for men and God forgives anyway so I have sex on the regular and don't feel guilty about it afterwards so what's the big deal?"
To be honest, when I first heard that question I thought to myself, "O-kay. Wow!" So you purposely plan and pursue the booty, which is definitely outside of God's will if you're an unmarried Christian no matter which Bible translation you read, and not only are you seemingly unrepentant (as the word repent does not just mean saying "I'm sorry, Lord" with every intention of continuing along the same path, but true repentance means to apologize and turn away with the heart intention of not making the same mistake again), but you're convinced it's not only not a big deal to you but also not a big deal to God, right? Besides, Jesus died for our sins, so if I have sex, God is just going to forgive so I can keep having sex as much as I want and God'll still forgive me, right?
One thing I always say to believers (which I also said in response to this question) is that you don't want to use God's grace like it's a credit card – sin now, repent later.
Sure, Jesus paid the price, but not so you can continue like a dog in heat returning to his own vomit over and over again (Proverbs 26:11) but so you can walk in newness of life while pursuing righteous and holiness in Christ (oh no, not the "h" word).
When we get to a place in our so-called Christianity where we're 'alright' with sin, then it only proves that we are now at a place where we really have to examine our hearts and our relationship with God.
Our relationship with God should be based on God's expectations, God's Word, and living to please Him out of our sheer love and admiration for Him – no, not because we feel forced to, but because we're willing vessels – willing to love God the way He should be loved, and deserves to be loved.
One of the ways we demonstrate our love for Him is by keeping His commandments (John 14:15) which are not grievous – meaning it's not burdensome or heavy (1 John 5:3). So it's not hard – God would not set an expectation that's impossible to accomplish. We can do all things through Christ according to His power and His grace (meaning might and ability). God gives us the power to be kept by Him, if we want to be kept (Jude 24).
It's at that place where we have hardened our hearts and have become, in a sense, our own 'gods' – making our own rules and choosing our own path that we then need to be worried.
I believe God places inside every Christian a 'God-consciousness.'
As we cultivate our relationship with Him, spend time in His Word daily, remain underneath His Word in our local church, serve Him and others, and continue to feed our spirit man and grow spiritually on a daily basis do we become more Christ-like with each passing day.
The more Word you get in you, the more you become like Him and you begin to have His Heart and you begin to think like He thinks. No, we're not perfect, but we're striving for perfection in Him every single day. ( Matthew 5:48)
Which is why I believe when a Christian has sex outside of marriage the reason it oftentimes accompanies feelings of guilt is because that trigger on the inside, that "God in you" or God-consciousness in you has let you know that something went down last night that wasn't right in His sight.
It's when we don't feel bad about the sin, think it's no big deal and go about our merry way, while planning the next roll in the hay with Sally, Sue, Shaniqua or Sheila that we should become worried, because, as the other panelist mentioned on yesterday's call, it could mean that we have given over to a reprobate mind, a mind which has rejected God's Word and now deem it worthless.
So let's all strive to be more like Him every day.
It's the goodness of God that draws man to repentance – it's because of His goodness that we're all alive to breath, love, and live another day. Let's return His goodness for our loyalty to Him in our worship, in our praise, and in our lives.
___
I talk more about God-consciousness and have a chapter called Sex! It's complicated inside my new book, How To Date and Stay Saved, which is now available in bookstores nationwide, or you can get an autographed copy or download the eBook now by ordering on my through this eStore
I must admit, this book is NOT for everyone, but for single Christians or curious ones who want to learn how to glorify God in your relationships, and who have a heart open and ready to receive life-changing instruction on How To Date AND Stay Saved…and live this thing out for real.

To listen to yesterday's interview in its entirety as a replay, Click link below:

http://www.blogtalkradio.com/mitchell-productions/2010/04/20/how-to-date-and-stay-saved
Much love in Christ, and as always, be and STAY encouraged!
Kim Brooks, author of bestselling novels, She That Findeth, He\'s Fine...But is He Saved? and more. www.kimontheweb.com