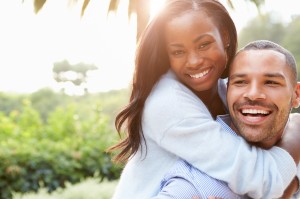 Out of all the 12 married couples that I interviewed for my newest book, How To Date and Stay Saved who remained abstinent with each other until marriage – all of them share another common thread – they all admit to being friends before lovers.
I also explain, in the book, how it's so important that every new relationship begins with a friendship foundation. During a recent singles conference at my church, one of the guest ministers, Bishop George Davis (a happily married man of 16+ years), explained the importance of building friendships and the importance of fellowship as not just single believers but as believers, and how your current friendship relationships can determine how you will behave in a marital relationship.
His words bring to mind the following examples: if you have problems with forgiving friends and others for their wrong doings, then you may have problems forgiving your future spouse when he gets on your nerves…and most married people I talk to say the "nerve getting on" is an inevitable part that goes right along with living with a fallible human being, especially of the opposite sex. Some married couples I talk to explain how they have to learn to walk in forgiveness each and every day with their spouse.
Forgiveness is a supernatural concept that you really have to tap into the love of God to bring forth, and it's also a heart issue. For instance, sometimes you may think you have forgiven someone, but then you see that person from afar and all kinds of feelings bubble up on the inside then you realize you haven't forgiven that person at all. If you still see the person who wronged you and still want to wring their neck or dangle them off the side of a building, then you may need to go back and check your forgiveness meter.
As believers, we have within us the ability to forgive each and every person. Romans 5:5 says, "…the love of God is shed abroad in our hearts by the Holy Ghost which is given unto us." Once we received the Lord in our hearts the Holy Ghost comes to live inside us – all we need to do is activate the forgiveness that's already within.
In addition to walking in forgiveness, we also want to walk in love with our friends.
You don't want to hold anger or resentment with your closest friends, and you also want to observe how you resolve conflicts with them. If you're mad at your girlfriend (or shall I say friend that's a girl) do you punish her by not speaking to her for a week? Just imagine how damaging that would be if you were to get mad at your spouse and not speak to him in a week. And then the very day you decide to stop holding that grudge against him is the day he gets killed in a car accident, and all your can remember is your last words to him were, "I'm not talking to you anymore." Not wishing that on anyone as that would be totally devastating, how much more then should we not harbor resentment with anyone, including our friends, family members and significant others (…let not the sun go down upon your wrath Ephesians 4:26)
Do you run from conflict, or do you address it and approach it in a peaceful or unassuming matter? Are all your friends "yes men" who agree with everything you have to say, or do some of them challenge your opinion or may not agree with you every time, but the two of you still know how to cordially and politely 'agree to disagree.'
So, with all relationships, learn to agree to disagree in a civil manner, practice walking in love and forgiveness at all times, and you may notice how the way you treat others spills over into your dating relationship and eventually your marriage.
Kim Brooks, author of bestselling novels, She That Findeth, He\'s Fine...But is He Saved? and more. www.kimontheweb.com