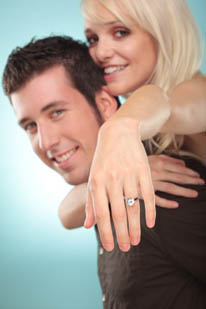 News Flash! Breaking News!
Marriage is all about commitment.
It's not about the wedding cake, the guests, and get this, it's not even about the bride…because once all the hoopla is done with, then you're left with the marriage.
It's about commitment.
As a single believer, now is the perfect time to practice commitment BEFORE marriage.
Do you hop from job, to job, or church to church, letting situations, circumstances, or even your "mood at the moment" guide your decisions instead of asking God where you should go and trusting His direction?
For example, if the usher gets on your nerves one Sunday, do you decide to just
switch churches for that reason alone?
Are you used to people walking out on you while growing up, so that now, as an adult,
you find yourself walking out on others without giving it a second thought?
What, in your life, have you committed to?
What have you "stuck with" no matter how you felt, whether it's a goal, your family,
or relationships?
Do you know how to be monogamous in a relationship?
If you're used to cheating on your significant other now, that behavior does not
necessarily go away just because you "put a ring on it." A wedding ring is no magic
band that causes all of the previous behavior during the "pre-marital" stage to
suddenly disappear just because you say, "I do" before God, the minister, and a
bunch of family members, friends, and loved ones.
If you have a problem with committing to one person before you're married, more than
likely you'll have problems staying committed to one person after you're married.
If you're a single believer, are you committed to God?
Do you cheat on Him by having sex outside of marriage?
Sure, you may try and rationalize to yourself and say, "But it feels so good,
God knows my heart, I just can't stop!"…but what will you say if you get married,
your spouse cheats on you, and then he or she tells you, "but it felt so good, you
know my heart is really with you, I just can't stop!" Some of you may leave that
spouse in a heartbeat. But God doesn't treat us like that. His grace and mercy
endures forever. Thank God for His grace, but some of us take His grace for granted.
If God expects you to not cheat on Him before you say, "I do," to one of His sons or
daughters, then that means He has equipped you with the means and the ability to be kept.
My God says in Philippians 4:13 that I can do all things through Christ which
strengthens me, so that means you can also commit to God by remaining celibate
until marriage. Sure, it may be a struggle in the flesh, but your love and
commitment to God are to be demonstrated by your actions and lifestyle.
So today, single believer, check your commitment history.
Choose this day, to become totally committed to God, not just with your lips, but
with your life.
If you can commit to God, your family, and your future, then it may be a good indicator
you can remain committed to your spouse – forever.