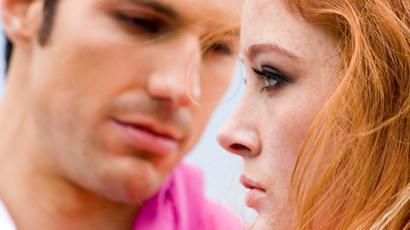 If you're dating someone and God is telling you to end the relationship, I don't care how long it's been – whether it's been 2 years, 2 months or 2 days, end it before it gets worse.
I personally don't believe God will allow you in a relationship He has not called you to be in for more than a couple months, if that; the key is to continue to pray through the relationship while you're in it so you can remain in a position to hear from God at all times instead of just following your heart (which oftentimes deceives Jeremiah 17:9), going with the flow and being led by the flesh, hoping he'll one day change or just occupying time due to loneliness or boredom (been there before and in the end it's not fun…or worth it)
Quite often we know up front, sometimes even before we decide to date the person that we shouldn't do it.
We pick out certain "virtuous" qualities we like that we figure "must be God" while ignoring the other negative traits or personal issues that haven't been dealt with (yes, men have issues, too) or emotional instabilities which may cause any hopeful future or healthy relationship with that person to become unforeseeable – yet, sometimes, we still. choose. to say. What happens when we disobey God and ignore His inner warning and red flags?
Things get worse.
Relationships I've been in where God specifically told me to end it yet I chose to continue oftentimes ended in a future 'hell date,' or in the other person getting on my nerves so much to a point where they would start to degrade and falsely accuse me that I just had to let 'em go. Ugh. All of that could have been avoided had I just obeyed and trusted God in the first place.
You may have been in a similar situation.
You may have spent all your quality time with someone or given yourself away to someone who, in the end, didn't deserve it, or you may have made bad decisions with someone that has permanently changed your life.
But God – God is not a man that He should lie neither is He the Son of man that He should repent (Numbers 23:19)
God still has a future for you – He can turn mistakes of yesterday into a thing of the past and give you the tools and confidence you need to move on as long as you seek His face continually and keep your trust in Him. (Proverbs 3:5)
No matter what has happened to you, Faithful is He that calleth you, and He will do it. (1 Thessalonians 5:24)
A relationship not ordained by God is actually wasting precious time that you could use to grow in your relationship with God, better yourself, enjoy life as a single or even allow you to meet someone who you may not have met because you were too busy spending all your time with Mr. Right Now instead of Mr. Right.
Thank God for His grace and mercy – now we know next time to not be led by the flesh and our own desires but to continue to be led by the Spirit in all things – including relationships.
When it comes to relationships, God always holds our best interest at heart.
He sees and knows our tomorrow and He won't tell us to say, "No," to something without knowing that His perfect will for our lives is on the way.
Kim Brooks, author of bestselling novels, She That Findeth, He\'s Fine...But is He Saved? and more. www.kimontheweb.com