Wanted to share a "Happy Mother's Day!" to all the single mothers holding it
down and raising mighty men of God and women of virtue. May God strengthen
you daily and God's peace cover and keep you on this day that we choose to
honor you.
Happy's Mother's Day!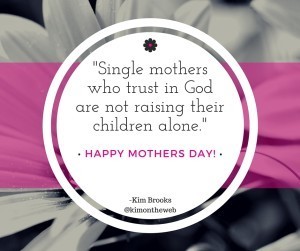 Trust in the Lord with all thine heart; and lean not unto thine own understanding.
In all thy ways acknowledge him, and he shall direct thy paths.
Be not wise in thine own eyes: fear the Lord, and depart from evil.
Proverbs 3:5-7
…I will never leave thee, nor forsake thee. Hebrews 13:5b


Be strong and courageous, do not be afraid or tremble in dread before them, for
it is the Lord your God who goes with you. He will not fail you or abandon you.
Deuteronomy 31:6
Kim Brooks, author of bestselling novels, She That Findeth, He\'s Fine...But is He Saved? and more. www.kimontheweb.com