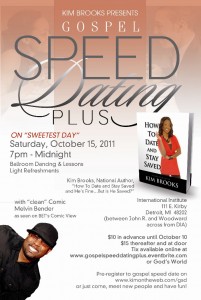 What is Gospel Speed Dating?
Gospel Speed Dating is a series of one-on-one mini-introductions of Christians of the opposite sex in a fun, pressure free and alcohol free environment. Since the purpose of dating is to collect "data," gospel speed dating is an opportunity to receive 3-5 minutes worth of data about different individuals and if a connection is made and there is an equal, "match," then the conversation continues after the event. Either way, it's an opportunity to meet new people and interact with fellow brothers and sisters in Christ and, if nothing else, possibly gain a new friend.
To contact Kim Brooks to facilitate and host a Gospel Speed Dating event as an addition to your singles conference or a separate event for Christian singles, email [email protected] with subject line: Gospel Speed Dating
Recommending reading for Gospel Speed Dating guests: How To Date and Stay Saved by Kim Brooks
Live Footage from Gospel Speed Dating Plus Event in Detroit on Sweetest Day October 15, 2011
Pics from Gospel Speed Dating Plus 2011
Gospel Speed Dating in full effect Getting ready for ballroom lessons
Ballroom dancers for Jesus Audience enjoys comedian Mic Larry
Kim addresses attendees
Gospel Speed Dating Plus Video Promo
Shout Out To Online Fam Who Attended Gospel Speed Dating
What Makes it GOSPEL Speed Dating?
Gospel Speed Dating in Action 2010